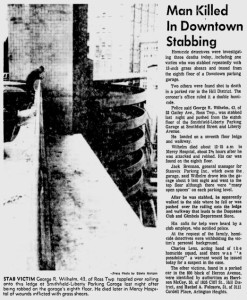 As a sensational story, the murder of George Wilhelm, its investigation, and the subsequent prosecutions of Charles Goldblum and Clarence Miller were the subject of continuing and extensive news coverage.
It is informative to follow the evolution of newspaper coverage on this case. Consider the several critical roles this coverage played; in creating public perception of the case; in chronicling the progress and proceedings of the investigation; in following the process of the prosecution and defense; and eventually in shaping jury options of the defendants.
This page presents a chronological archive of 114 newspaper articles reporting on the case, clips of 114 articles, primarily from the Pittsburgh Press (PP) and the Pittsburgh Post-Gazette (PG), starting with coverage of the fire that destroyed the Fifth Avenue Inn on November 30, 1975. To access any article, simply click on the headline.  Then, for a more legible version, click on the article itself.
All articles with permission of The Pittsburgh Post-Gazette
DATE                       HEADLINE
1975
PP Dec 1 –  Another Major Fire
PG Dec 1 –  Five-Alarm Fire Ruins 5th Avenue Restaurant
1976
1977
1978
 1979
PG Feb 16 – Miller Gets Life in City Stab Slaying
PG Feb 17 – 2nd Man Gets Life In Slaying
 Post Conviction Coverage